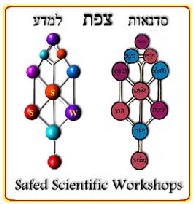 Home Page

The Safed Scientific Workshop (SSW) program funds scientific conferences, workshops and summer schools in the Greater Safed area. Priority is given to meetings that are likely to have some impact on the cultural renewal of the Old City of Safed, and the program therefore prefers, if possible, that meetings be held in the Old City. This document lists some of the logistic possibilities for holding a meeting in the Old City and in the Greater Safed area.

Food and lodging
The major possibilities for lodging in the Old City are:
(1) Rimonim Hotel (5 stars)
(2) Merkazi Hotel (3 stars)
(3) Ron Hotel (3 stars)
(4) Tel Aviv Hotel (3 stars)
(5) Assorted bed-and-breakfasts

Lectures
In 2006-7, most of the conferences used the Zefat Academic College for their lectures. They have a recently renovated building, Beit Hadassah, that has two lecture halls equipped with audio-visual equipment (each lecture hall seats about 80), and two computer rooms, each equipped with 30 modern workstations. They also are equipped with 20 poster boards. The use of their facilities is possible only during the months of July-September, when classes are in intersession, and is conditional upon availability. They are a three-minute walk from the Merkazi Hotel and a 10-15 minute walk from the Rimonim Hotel.

The Rimonim Hotel has an underground lecture hall that seats 90. The Merkazi Hotel has a ballroom on the entrance floor that can be used for lectures, that seats 70.

Outside the Old City
The two other hotels in the Greater Safed area are the Canaan Spa and Mitzpeh HaYamim. Both of these hotels have reasonably spacious and attractive lecture halls/ballrooms for holding lectures.

Conference Organization
The conference coordinator is Ilanit Dvash, safed.conf@gmail.com. Ilanit can help with all matters of logistic arrangements including, lodging, lectures, transportation and recreational possibilities. The Safed Scientific Workshop program asks that you contact Ilanit to coordinate the logistics of your conference (date and location) with the other meetings planned. Coordination of the meetings can be used to leverage better prices and to improve the infrastructure of hotels, etc.